5 Inspirational Paralympic Speakers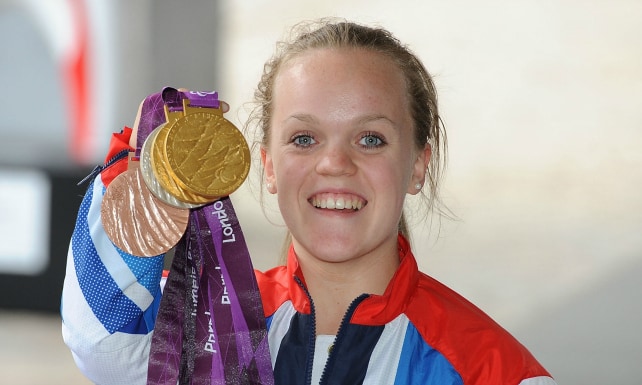 Few events in the world encapsulate the very essence of inspiration quite like the Paralympics. All of the individuals who take part in the quadrennial competition have fought against adversity throughout their lives and yet they never gave up their dream of representing their country at the highest level.
At Champions Olympic Speakers we have selected five key Paralympic speakers who are sure to give your event a jolt of inspiration and perspective, their stories motivating and moving the audience in equal measure.
Ellie Simmonds OBE
When Ellie Simmonds OBE took part in her maiden Paralympics in Beijing aged 13, she was the youngest member of the team, and she sprung a surprise to win the 100m Freestyle before breaking her own world record by more than seven seconds for a second title in the 400m Freestyle.
She then became the poster girl for the London 2012 Paralympics and she didn't disappoint, winning 400m Freestyle and 200m Individual Medley golds as well as 100m Freestyle silver and 50m Freestyle bronze to cap off what was an incredible month for London and for the entire UK.
As a Paralympic speaker, she will discuss her incredible rise to the top of S6 swimming and how to maintain the momentum going forward, as she is also set to take part in the 2016 Paralympics in Rio.
Jonnie Peacock MBE
Jonnie Peacock MBE broke world records and burst onto the world stage at just 18 years old when he represented Great Britain in the T44 men's 100m at the London 2012 Paralympic Games.
Even though Jonnie had run his first international race at the Paralympic World Cup in Manchester just three months earlier, he not only went on to win the gold medal at the Paralympic Games but he broke the Paralympic record at the same time, completing the 100m in 10.90 seconds.
Recognised as one of Britain's greatest Paralympians, the 22-year-old is the embodiment of courage and determination. He is certainly a winner when he speaks to audiences about his life and his experiences and he is an inspiration to young and old alike.
David Weir CBE
With six Paralympic gold medals to his name, David Weir CBE is one of Team GB's greatest talents. Born with a congenital spinal cord transection that left him unable to use his legs, the Wallington native broke the mould from an early age, entering the London Marathon at eight years old, and since then he has continued to break records and barriers.
At Athens in 2004, David won a silver in the 100m and a bronze in the 200m. At Beijing in 2008, he won four medals – golds in the 800m and the 1500m, silver in the 400m and bronze in the 5000m. At the 2012 London Paralympic Games, meanwhile, he got golds in the 5000m, 1500m, 800m and the marathon.
An outstanding speaker, David is a fountain of inspiration, has an incredible story to tell, and will astound your audience.
Lance Corporal Derek Derenalagi
A Lance Corporal with the British Army's Second Battalion, Derek Derenalagi was pronounced dead after his vehicle was hit by an improvised explosive device in Afghanistan in 2007, but medics at Camp Bastion detected a faint pulse as they readied a body bag for him.
After his legs were amputated above the knee, Derek was flown to Birmingham's Selly Oak Hospital, where he spent nine days in a coma. He then embarked on the Ministry of Defence's Battle Back programme and took part in a Paralympic training camp in the United States, where he took up the F57 shot put and discus.
In 2012, Derek won the gold medal in the F57/58 discus at the IPC Athletics European Championship, before being selected in Team GB for the 2012 Paralympics in London and becoming the first Fijian to represent Great Britain in the tournament.
A truly incredible Paralympic speaker, Derek's story is incredibly moving and will have a deep impact on your audience.
Danielle Brown MBE
A three-time World Champion in archery, Danielle Brown MBE won a gold medal at the 2010 Commonwealth Games where she was competing against able-bodied athletes, while also clinching the top prize in the women's individual compound at both Beijing 2008 and London 2012 and breaking every record there was to break in the competition.
A master in the art of competing and winning, Danielle enjoys helping others achieve their ambitions and goals, going into motivational speaking, conducting sport psychology sessions and working with the education and business sectors to minimise the impact of stress and nerves.
Danielle is proof that a disability doesn't have to prevent someone from reaching pinnacle after pinnacle and turning their goals into reality – she will challenge the way you think and demonstrate how to harness the powers of vision and self-belief to pursue excellence.
Book a Paralympic Speaker!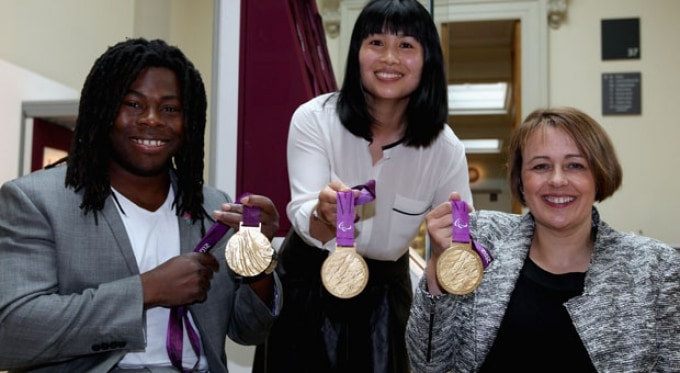 To book any of the above Paralympic speakers, or to enquire about the other Paralympic speakers on our books, do not hesitate to contact Champions Olympic Speakers via our online form or by calling us on 0207 1010 553