Top 10 Paralympic Speakers & Their Inspiring Stories
Few events in the world encapsulate the very essence of determination quite like the Paralympics. All of the inspirational Paralympians who take part in the quadrennial competition have fought against adversity throughout their lives, and yet they never gave up their dream of representing their country at the highest level.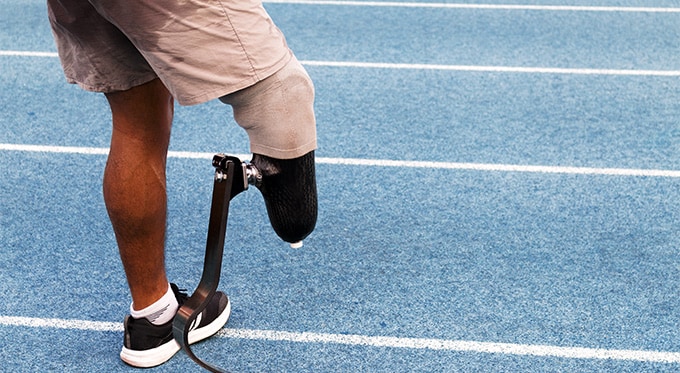 At Champions Olympic Speakers we have selected 10 top Paralympic speakers who are sure to give your event a jolt of inspiration and perspective, their stories motivating and moving the audience in equal measure.
Ellie Simmonds OBE
When Ellie Simmonds OBE took part in her maiden Paralympic Games in Beijing aged 13, she was the youngest member of Team GB. Ellie thrived on the elite sporting stage, winning the 100m Freestyle before later breaking her own world record by more than seven seconds. She then became the poster girl for the London 2012 Paralympic Games, after coming first in the 400m Freestyle and 200m Individual Medley. Ellie embodies all that it means to be a Paralympian; determined, resilient and inspiring.
Barney Storey
Regarded as one of the world's most successful sprint tandem sighted pilots, Barney Storey is famed for his calculating eye and winning mindset. At the 2012 London Paralympic Games, Barney and his sporting partner, Neil Fachie, won a gold and silver medal, after achieving double gold at the 2008 Beijing Paralympic Games. He has built a reputation for his comprehensive understanding of competing, which ensured his success at multiple Paralympic Games in a row. Having worked closely with disabled Paralympians, he is the ideal spokesperson for an athlete's true potential.
Kelly Gallagher MBE
Winner of Britain's first-ever Winter Paralympic gold medal, Kelly Gallagher MBE, shot to sporting fame at the 2014 Sochi Winter Paralympic Games. She has since firmly established Team GB as a formidable force at the Winter Games. Born with oculocutaneous albinism, she showed an incomparable level of bravery as she hurtled down the track, following sighted-guide Charlotte Evans.
In 2014, in celebration of her pioneering work as a para-athlete, Kelly was awarded an MBE at the Birthday Honours. She was later awarded the 2014 Pery Medal by the Ski Club of Great Britain. When booked for events, Kelly provides a gold-standard perspective on the power of determination.
Ade Adepitan MBE
Presenter and wheelchair athlete, Ade Adepitan MBE, has built an exceptional career as both a Paralympic competitor and a famed media star. A formerly common name on BBC One, he excelled in such shows as Hip-Hop and the X-Change programme. However, Ade's life hasn't always been showbiz and gold medals. After contracting polio as a child, he has fought to not just survive, but thrive as an athlete, winning medals at the 2000 Sydney Paralympic Games and the 2004 Athens Paralympic Games.
David Weir CBE
With six Paralympic gold medals to his name, David Weir CBE is one of Team GB's greatest talents. Born with a congenital spinal cord transection that left him unable to use his legs, the Wallington native broke the mould from an early age, entering the London Marathon at eight years old.
Since then, he has continued to break records and barriers, as well as inspire audiences. From the 2004 Athens Paralympic Games to the 2012 London Paralympic Games, David won two silver medals, two paralympic medals and gold in the 800m, 1500m, 5000m, 800m and the marathon. An outstanding speaker, David is a fountain of inspiration.
Danielle Brown MBE
A three-time World Champion in archery, Danielle Brown MBE won a gold medal at the 2010 Commonwealth Games, where she was competing against able-bodied athletes. She later clinched gold at both the 2008 Beijing Paralympic Games and 2012 London Paralympic Games, while breaking every record there was to break in the competition.
As a master in the art of competing and winning, Danielle enjoys helping others to achieve their ambitions and goals, through her motivational speeches, sport psychology sessions and working with the education and business sectors to minimise the impact of performance pressure.
Lance Corporal Derek Derenalagi
A Lance Corporal with the British Army's Second Battalion, Derek Derenalagi was pronounced dead after his vehicle was hit by an improvised explosive device in Afghanistan in 2007 – but, medics at Camp Bastion detected a faint pulse as they readied a body bag for him.
After his legs were amputated above the knee, Derek was flown to Birmingham's Selly Oak Hospital, where he spent nine days in a coma. He then embarked on the Ministry of Defence's Battle Back programme and took part in a Paralympic training camp in the United States, where he took up the F57 shot put and discus.
In 2012, Derek won the gold medal in the F57/58 discus at the IPC Athletics European Championship, before being selected for Team GB for the 2012 London Paralympic Games. Derek was also the first Fijian to represent Great Britain in the tournament. A truly incredible Paralympic speaker, Derek's story is incredibly moving and will have a deep impact on your audience.
Richard Whitehead MBE
Following a double-knee amputee, Richard Whitehead MBE was faced with an uphill recovery – despite several setbacks, he has gone on to break full and half-world marathon records. With a total of nine gold medals at various Paralympic Games, he has proven that physical limitations can be overcome with determination and perseverance. Richard later completed 40 marathons in 40 days, a task that raised a staggering amount of money for charity.
Baroness Tanni Grey-Thompson
Widely considered to be one of the UK's most successful Paralympic athletes, Baroness Tanni Grey-Thompson has since diversified her career to politics, broadcasting and public speaking. Prior to becoming a crossbench peer in the House of Lords, she earned 14 gold medals across several prestigious competitions, including the 2000 Sydney Paralympic Games and the 2006 Assen World Championships.
Before being made a Dame in 2005, Tanni has been recognised with the 2019 BBC Sports Personality Award and the coveted Lifetime Achievement Award, a testament to her sport-defining influence. As a symbol of determination, she inspires audiences across the country with her incredible story of perseverance.
David Roberts CBE
Having earned an incredible 33 medals, at such events as the 2006 Durban IPC Swimming World Championships and the 2000 Sydney Paralympic Games, David Roberts CBE is one of the most successful para-athletes in British history. Having been born with cerebral palsy, David has led a greatly successful career as a sportsman, which has been celebrated with an MBE, CBE and an induction into the Welsh Sports Hall of Fame.
Book An Olympic After Dinner Speaker
To book one of our inspiring Paralympic speakers for your next event, simply fill out one of our contact forms or contact a booking agent directly on 0207 1010 553.