Ben Hunt-Davis: An Olympic Rowing Sensation
Who Is Ben Hunt-Davis?
Former British competition rower and Olympic gold medalist, Ben Hunt-Davis is now a motivational keynote speaker and performance coach who has formed, Will It Make The Boat Go Faster? a company with the aim of bringing motivation to organisations and audiences everyday life.
Rowing Career
In total Ben was part of the national rowing team for nine years, he competed in three Olympic games, racing in 1992, 1996 and 2000, he also competed in six World Rowing Championships, he won a silver medal in 1999.
A Winning Revised Approach
Throughout Ben's rowing career, the Great Britain Olympic team struggled to finish any less than seventh place during rowing events, it was in 1998 when he came to the realisation that if the team used the same techniques and training each time, that they would receive the same outcome over and over.
This epiphany led him to take a different approach in which the team became more critical of their own actions and asked the same question when it came to making a decision: will it make the boat go faster? Davis put his focus on continuous improvement, always thinking of new ways of working to achieve the goal everyone was aiming for.
This technique proved to be sustainable and successful and put them on track to win their gold medal in the 2000 Sydney Olympics. The rowing eight were the first British crew to win the event since 1912 making them history-altering and inspirational to future rowers for Team GB.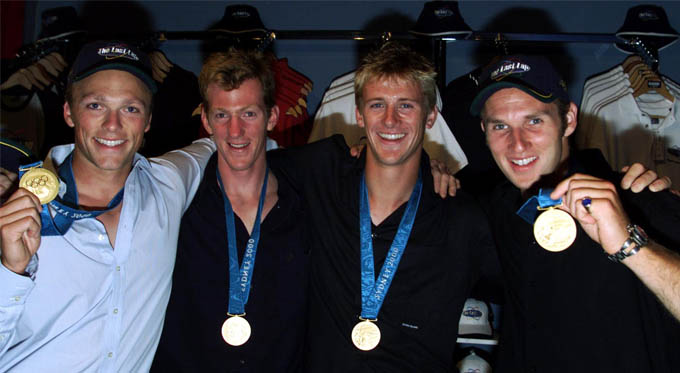 An approach so good that Ben remained part of the team for the Beijing Olympics in 2008 when he worked as part of the HQ staff. From 2009 to 2011 he worked for the British Olympic Association as the 2012 Project Director and Ambassador before rowing the 2012 Olympic torch from Hampton Court Palace, Middlesex, to Westminster Bridge.
He was also involved in the management and administration of rowing as a member of The Amateur Rowing Association Council and a steward of Henley Royal Regatta throughout the London games.
Will It Make The Boat Go Faster?
It was this winning approach of continuous improvement, focusing on what's important, performance and efficient teamwork, that influenced Ben to co-write the Will It Make The Boat Go Faster alongside the executive coach Harriet Beveridge. The book shows how the strategies used by the rowing eight can be taken into business or personal life situations in order to achieve peak performance.
Now working at his own performance consultancy alongside the likes of Steve Ingham and Pamela Relph, Ben and his team have applied his approach to many businesses and organisations. Groups such as The British Olympic Association and the England Women's Rugby Team have experienced Ben's captivating keynote speeches in which he has delivered across 30 countries, creating optimum motivation.
Book Ben Hunt-Davis For Your Event
For an incredible opportunity to listen to some of Ben Hunt-Davis' inspirational stories, why not book him as your motivational Olympic speaker today? He's available to book with the Champions Olympic Speaker Agency for any corporate event, sporting occasion or team-building exercises. Simply contact the Champions Olympic Speakers agency by filling in our online contact form or call a booking agent directly on 0207 1010 553.