Speaker Showcase: Michael Phelps
One of the greatest Olympians of all time, Michael Phelps, has had a wonderful career in swimming winning a staggering 23 gold medals along the way, more than any other athlete.
Beginning swimming when he was just seven years old, Michael fell in love with the sport. Initially using the sport as an outlet for his ADHD diagnosis, it soon became clear that he was a natural in the water and by the time he was 10 he held a national record for his age group in the 100m butterfly.
His first shot at the Olympics came in Sydney in 2000 when he was just 15 years old. This made him the youngest male swimmer since Ralph Flanagan in 1932 to compete at the Olympics. Michael did not medal at the Games but certainly made an impact in the pool. Showing signs of things to come he made it to the final of the 200m butterfly coming fifth.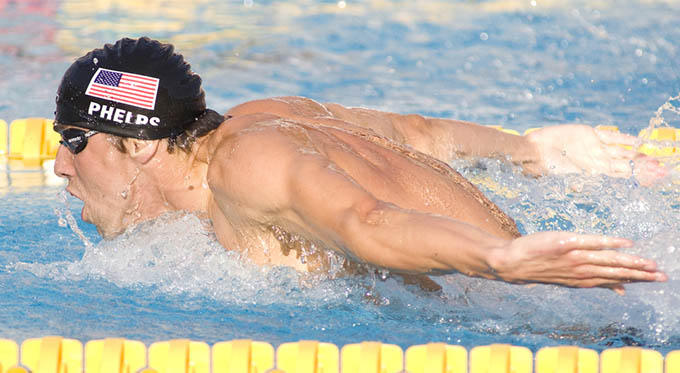 In the four years that followed, Michael trained hard and ensured he was ready for his next shot at the Olympics which came in Athens in 2004. After a tricky qualification period, he made it to the event and won his first Olympic gold medal in the 400m individual medley. Not only this but the win was achieved in a world record time of 4:08:26. This was not his only win at the Games and he walked away with six gold medals. Not bad for his first-ever Olympics.
At the next Games in Beijing in 2008, Michael went into it as the one to beat after Athens. Where some may have buckled under this pressure, Michael thrived breaking his own record in the preliminary heats of the 400m individual medley. Remarkably Michael ended this Olympics with more medals than he did in Athens, leaving China with eight golds. This achievement meant he broke Mark Spitz's record of seven golds in one Olympics, a record that had stood since 1972.
By the time London 2012 rolled around Michael had decided he would not compete in eight events and was keen on trying something different in London. Looking into shorter distance swimming, Michael took golds in the 100m, 200m, 4x200m and 4x100m.
After the Games came to an end Michael made the shock announcement that he was retiring from swimming stating he wanted "nothing to do with the sport." However, less than two years later he was back representing the United States at the Pan Pacific Championships. Now approaching his 30s he did compete in the 2016 Olympics in Rio de Janeiro. Winning five golds, was a huge achievement for a man of his age, as swimmers normally pick much earlier.
As well as his 28 Olympic medals (23 of which are gold), Michael has also won 27 World Championship gold medals and 16 Pan Pacific Championship golds making him one of the most decorated athletes of all time.
Also, an inspirational figure, Michael can often be found giving advice and guidance to young people encouraging them to follow their dreams. He has now retired from the sport for a second time, but on this occasion, it looks like he will stick to his word as he hasn't done any training for Tokyo 2020.
Much of his retirement has seen him do charity work and he has even raced a shark!
Hire Michael Phelps!
Michael is also an excellent Olympic speaker who is a hit at every event he attends. For booking information get in touch with Champions Olympic Speakers today. Call us on 0207 1010 553 or complete our online form and a member of our team will get back to you.