Speaker Showcase: Ellie Simmonds OBE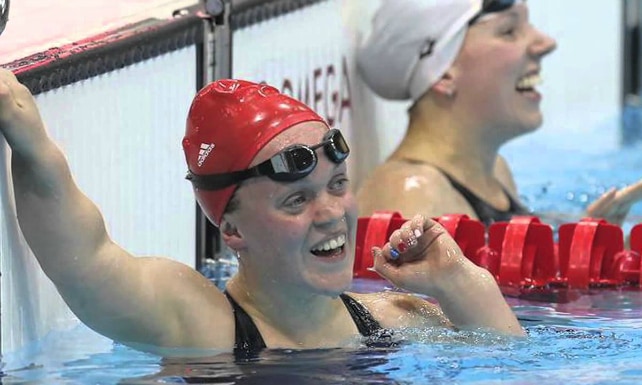 One of the best things about the Olympics is that it is open to all individuals in spite of race, creed, size, body shape, or age, with success the only prerequisite.
A prime example of this is the record of Oscar Swahn, who won a gold medal for shooting at the 1912 Olympics at the age of 64 years and 280 days. Eight years later he then clinched a silver medal at 72 years and 281 days of age.
When Ellie Simmonds OBE took part in her maiden Games aged 13, she was the youngest member of the Beijing 2008 Paralympic team. Despite this, she sprung a surprise to win the 100m Freestyle before breaking her own world record by more than seven seconds for a second title in the 400m Freestyle.
At the end of 2008, Ellie was voted the BBC Young Sports Personality of the Year and a few weeks later she became the youngest person ever to be appointed a Member of the Order of the British Empire when Queen Elizabeth II bestowed upon her the title on 18 February 2009.
Winning two gold medals at the Games and receiving an official state accolade would be the kind of thing most people would dream of achieving in their lifetime, but with Ellie reaching this goal while still in school, the stage was set to go even further – and what better way to do so than to compete on home soil?
Ellie was not just tipped for success at the London 2012 Paralympics – despite being of an age when she could not yet vote, purchase alcohol or rent her own place, she was made the poster girl of the Games.
Nevertheless, she thrived under the pressure, winning 400m Freestyle and 200m Individual Medley golds as well as 100m Freestyle silver and 50m Freestyle bronze to cap off what was an incredible month for London and for the entire UK.
After her medal haul, and extinguishing the Paralympic flame in the closing ceremony, what followed was a whirl of engagements, including featuring as a guest on chat shows, switching on Christmas lights, meeting the Prime Minister, having Stella McCartney make her a dress, meeting celebrities, and becoming one herself.
As of 2016, Ellie boasts a gargantuan 42 medals in all competitions, including 31 golds, holds a total of 10 world records (eight individual, two as part of a relay team), and is an Officer of the British Empire. And she is still only 21 years of age.
Her sights are firmly set on the Rio Paralympics, and according to Val, her mother, she is aiming to win medals at five different games, a career objective inspired by the legendary rower Sir Steve Redgrave CBE.
Whatever Ellie's goals, she has already achieved so much at such a young age that the sky is the limit for the talented S6 swimmer.
To book Ellie Simmonds OBE as the Paralympic speaker for your youth event, corporate function or as a guest at your charity fundraiser, contact Champions Olympic Speakers by telephone on 0207 1010 553 or via the online booking form.