Why Do Athletes Bite Their Medals?
One of the slightly odder modern sporting phenomena is the sight of a celebratory athlete standing on the podium whilst biting their medal. The successful World Championship winning 1991 Great Britain 4x100m team were among the first to pose while biting with their medals, with Derek Redmond, John Regis, Roger Black and Kriss Akabusi doing the honours in Tokyo.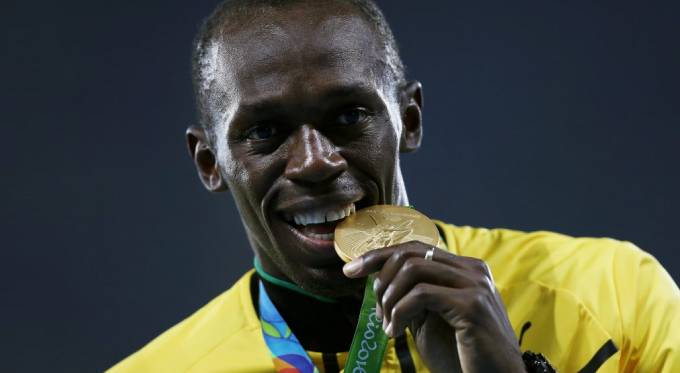 Fast forward 20 years and Olympic greats like Michael Phelps are still doing it, while the tradition has spread to outside of athletics. Football player Gareth Bale and tennis great Rafael Nadal have also been spotted biting their medals in celebration; but what is it about the medals that prompt sportsmen and women to tuck in?
Nowadays, first-place Olympic medals are made of only 1.34% gold, which amounts to about 6g, a common way athletes used to test their medals to make sure they were the real deal was to sink their teeth into them. If the medal was truly made out of gold, then teeth marks would be left to prove it. With medals mainly made up of sterling and recycled silver, though, most Olympians take part in the ritual for symbolic reasons, alongside traditional smiling photos, although many think it is encouraged by photographers.
David Wallechinsky, President of the International Society of Olympic Historians told CNN in 2012, "It's become an obsession with the photographers. I think they look at it as an iconic shot, as something that you can probably sell. I don't think it's something the athletes would probably do on their own."
It's not an entirely safe practice, though. A silver medallist at 2010's Vancouver Olympics, German luger David Moeller chipped his front tooth during his biting celebrations. However, the 'medal bite' picture has certainly grown in popularity over the years, and looks like it is set to stay!
Here at the Champions Olympic agency, we are host to a number of leading Olympians that can be hired for corporate events and conferences. If you would like to book somebody, simply get in touch by filling in our online contact form or by calling a booking agent directly on 0207 1010 553.