How An Olympic Speaker Can Help You Perform At Your Best
Whether you want to achieve success in a sporting or professional capacity, hiring an Olympic Speaker is always a great option. Knowing what it takes to perform at the highest level of their respective discipline, here at Champions Olympic Speakers we have a wide range of speakers who are able to inspire you in whatever your endeavour.
From cyclists, swimmers and athletes every one of the Olympic Speakers on our roster is experienced at the highest level. There are certain qualities necessary when it comes to achieving success in all areas, and our Olympians and Paralympians have all of these skills. Below is a selection of traits our excellent Olympic Speakers can offer.
Dedication
To meet your goals you have to be 100% committed and not let anything stand in your way. Our Olympic Speakers made it to the top because they did whatever it took to make a career in their passion.
When Sir Chris Hoy wanted to make it as a professional cyclist he had to commit his life to the profession. When it seemed preferable to stay in bed rather than hitting the bike for those early morning rides in the rain and the cold, he forced himself out of the house as he knew this would pay off.
This is transferable to all aspects of people's lives as going that extra mile in your working life can really pay dividends.
Overcome Adversity
Sometimes, in life, you will come up against negative experiences and often the way you respond to these occurrences is what counts. Usually, there are two ways in which someone can respond to this. You can either become demoralised from the event or take it as a learning curve and come back stronger.
In professional sport, there are often times when an athlete will put in poor performances or suffer a defeat but the very best teams and sportspeople out there will always come back stronger and make sure they are successful next time.
A good example of this is Dame Katherine Grainger who is the most decorated female Olympian in Britain's history. After winning three consecutive silver medals as a rower at the Games many people would have been forgiven for thinking she might retire. However, she did not let it deter her from her dream and in London 2012 rowed to victory in the Double sculls.
Keep Your End Goal In Sight
Sometimes what you are trying to achieve can become lost as you become wrapped up in the journey you are taking to get there. At times like this it is perfect to gain some perspective and remember what is up for grabs should you be successful.
An Olympic speaker can help you set small goals and achievements to help you on your way making the process easier and more manageable. Long-distance runners regularly set themselves small milestones within their races to help make it more manageable.
Book An Olympic Speaker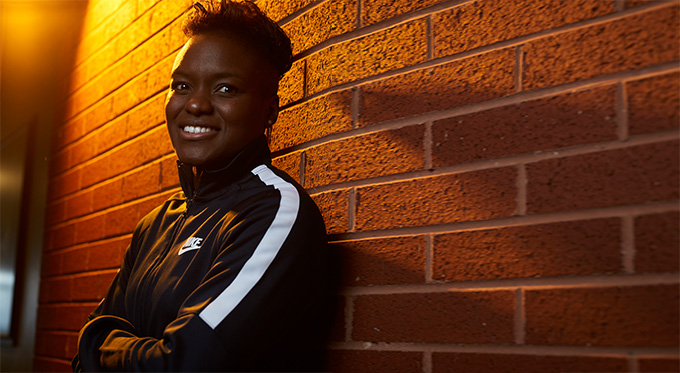 To book any of our expert Olympic Speakers for your event or conference get in touch with Champions Olympic Speakers by calling 0207 1010 553 or completing our online form.